แสดง 1-1 of 1 รายการ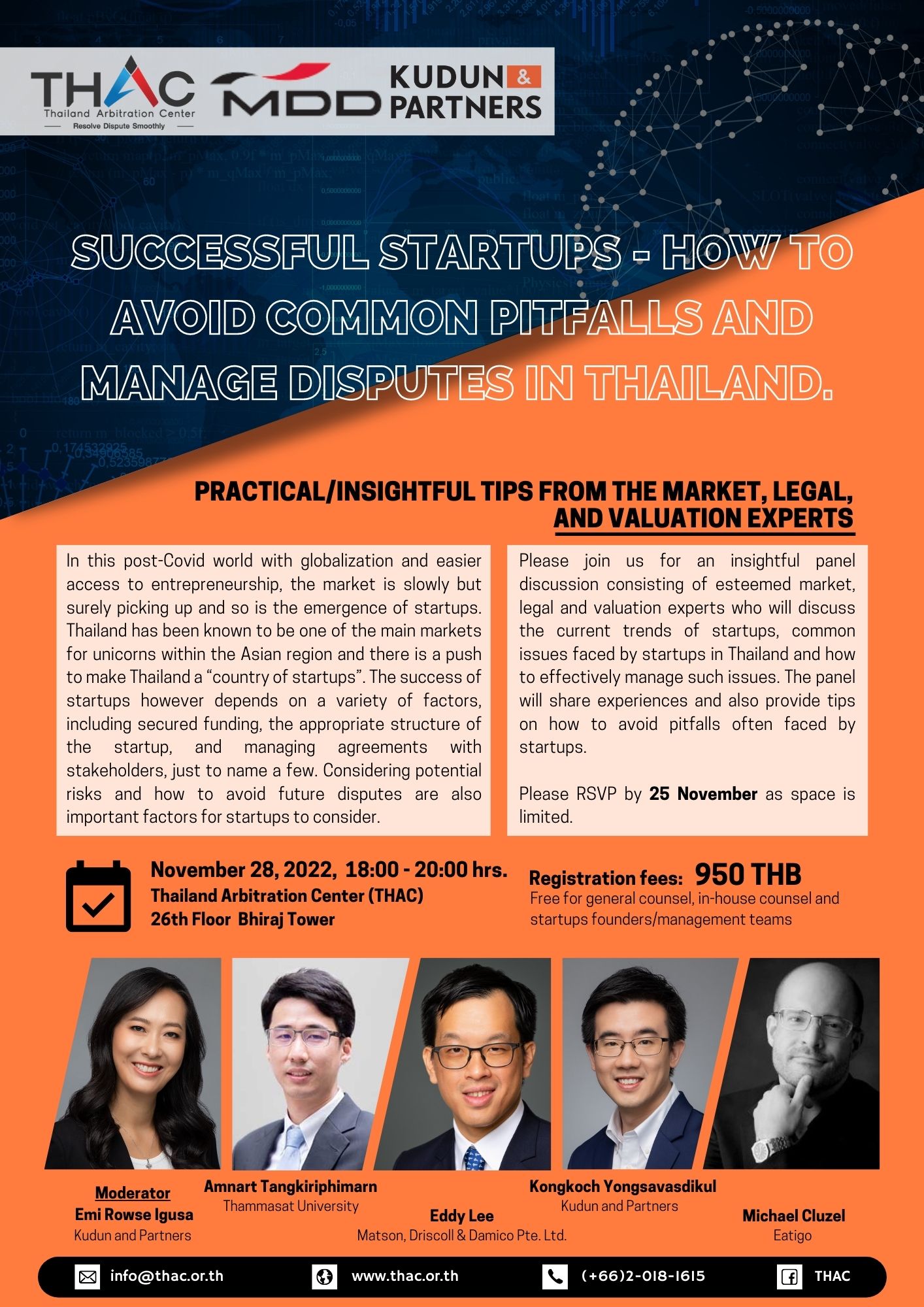 Monday, 28th November 2022 at 18:00 - 20:00
Practical/insightful tips from the market, legal, and valuation experts
รายละเอียด
In this post-Covid world with globalization and easier access to entrepreneurship, the market is slowly but surely picking up and so is the emergence of startups. Thailand has been known to be one of the main markets for unicorns within the Asian region and there is a push to make Thailand a "country of startups". The success of startups however depends on a variety of factors, including secured funding, the appropriate structure of the startup, and managing agreements with stakeholders, just to name a few. Considering potential risks and how to avoid future disputes are also important factors for startups to consider.
Please join us for an insightful panel discussion consisting of esteemed market, legal and valuation experts who will discuss the current trends of startups, common issues faced by startups in Thailand and how to effectively manage such issues. The panel will share experiences and also provide tips on how to avoid pitfalls often faced by startups.

Details Date: 28 November 2022 Time: 18:00 - 19:00 hrs. (Bangkok time) Networking start at 19:00 - 20:00 hrs.
Location: Thailand Arbitration Center, 26th floor Bhiraj Tower Registation Fees: - Others: 950 THB - Free for general counsel, in-house counsel and startups founders/management teams (Please contact [email protected] to receive a discount code for registration)
Please RSVP by 25 November as space is limited.
ลงทะเบียนแล้ว
18

จาก 53